EDIT: In the end, whatever we say about representation in comics tonight, none of it matters.  This is the only thing that matters… little girls having their own hero to cosplay as.
——————————————————————————————————————-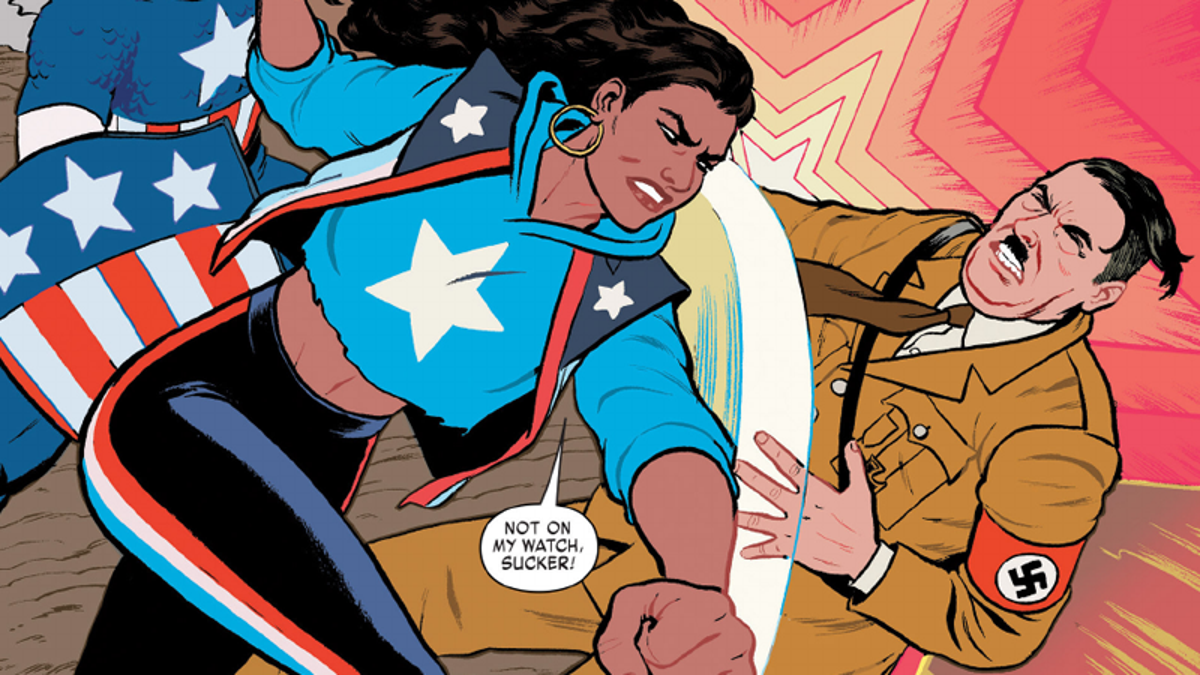 This week, there's an obvious shift of gears in terms of the comics we're reading.  We've gone through the origins, the big turning points, and now we're into them contemporary mainstream canon with Ms. Marvel (Kamala Khan) and Miss America (America Chavez).  And *representation* is the key term here.
I'd like to get my cynicism out of the way and just ask the stupid question already: how much of this is pandering?  Representation is absolutely important, but we have to remember that the comic book industry is a business.  Miriam Kent's article, "Unveiling Marvels and the Reception of the New Muslim Heroine," clearly indicates that Kamala Khan was created "to be adaptable for consumption by audiences who do not belong to that marginalized group."  Sure, there is a demand for strong female POC's but let's not kid ourselves and think that this is some wonderful ethical milestone built on rainbows and fairy dust in the name of true equality.  If there wasn't a demand, we wouldn't have this.
Thankfully, Ms. Marvel is just a fine, well-written comic.  Kamala's journey from fangirl to local New Jersey hero is fun and full of hope and humor.  Her Pakistani-American Muslim identity is balanced with broad, yet distinguishing strokes.  Kent writes "The racism she experiences, for example, is specific to her race and nationality," yet there is an undeniable relatability there.
Yet, 'relatability' may be a bad word.  Kent writes in response to reviews of Ms. Marvel that "critics concentrated on how the themes of the book fit into their experiences."  Then, towards the end she gives us this shaming:
It should be possible for readers to have a positive experience of a text even though it may not resonate with their individual lives. However, reviewers' insistence on relatability as a key source of value for the book indicates otherwise. Such reviews also erase individual experiences of marginalized peoples, suggesting that any reader who has ever felt marginalized should be able to relate to the book when, in reality, every individual experiences difference differently.
I have all sorts of feelings about her writing this.  OF COURSE NOT EVERYONE (INCLUDING ALL MARGINALIZED PEOPLE) CAN RELATE TO EVERY SINGLE BIT OF MINUTIA THAT HAPPENS IN ANY FICTION.  GODALMIGHTY.  For her to suggest that positive reviews about relatability 'erase' the individual experiences of marginalized peoples is an insane statement.  What would be better?  If Kamala Khan's journey is so specific to the Pakistani-American-New-Jersey-Female-Teenager experience that only Pakistani-American-New-Jersey-Female-Teenager will 'relate' to her experience?  It's because of her relatability that these things matter, that this comic feels right.
America Chavez's book is less-relatable, and therefore less interesting to me.  First off, she has this convoluted backstory of alternate dimensions that doesn't really put her in a real position to be a representative of Latin-Americans (just sayin') and it seems that the impetus all of her adventures in this volume involve meddling by ex-girlfriends, complicating the positive LGBTQ angle that is otherwise important.  Frankly, it just wasn't a cohesive or fun read.  Plus, all the dialogue felt like it was culled from Twitter posts.  Obnoxious.
But nevertheless, both of these comics are important for what they represent, which is representation outside of an industry historically "dominated by men in terms of content, production, and assumed audience."  We have female writes, of diverse ethnic backgrounds, of diverse sexual orientation, of diverse religions.  More voices means more types of storytelling means more variety means more engagement.  We all win.
Perfunctory Questions:
1.) Are comics like Ms. Marvel and Miss America simply created to pander and generate $$$?  Or are they as important as we want them to be?  Or both?
2.) What the hell is Kent talking about when she writes how reviews of Ms. Marvel emphasizing relatability 'erase individual experiences of marginalized peoples"?  Am I reading this wrong?
3.) How do these comics differ from what we've read so far?  They're new and relatively minor works compared to the 'major' texts we've been reading.  Will these be read years from now in a 781 class on Superheroes?